EDGE was established in 2002 by a group of dedicated disc golfers with a passion for teaching disc golf. They wanted to create a non-profit that could provide schools and youth programs with reasonably priced curriculum, equipment, and supply packages. We live our lives by "Help change the world, teach a kid to putt" and our goal is to provide you with a program to help students and youth learn and enjoy disc golf. We hope that students taking up disc golf will involve their family and friends so that all will benefit from better health, fitness, and social awareness. You can read the original founding Prospectus here.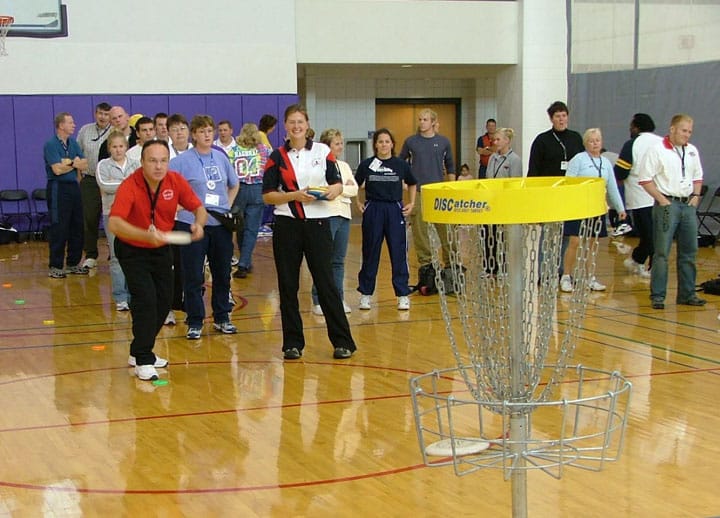 EDGE stands for Educational Disc Golf Experience. We are a non-profit corporation formed to provide disc golf educational services for youth and adolescents. We provide an extensive program that teaches disc golf fundamentals and skills. We created the curriculum by following the lead of the National Association for Sports and Physical Education and aligning the lesson plans to that organization's Standard for Physical Education. We have grants available to help schools and youth programs pay for that program. We get the grant money through kind donations and partnerships with our Tournament Charity Program.
The EDGE program is the brainchild of a group of people passionate to change the world through disc golf. The curriculum was developed by World Champions, educators, a mathematician, and a recreation therapist to help bring disc golf to life and inject a variety of skills and approaches. Lessons are linked to everyday classroom topics so students develop an understanding and appreciation for math, science, citizenship, fitness, nutrition, and environmental studies. Our disc golf curriculum addresses the needs of each child by exercising both their minds and bodies. "Shape of the Nation" by the Society of Health and Physical Educators found that 91% of parents believe there should be more physical education in schools. EDGE provides a cost-effective way to do that.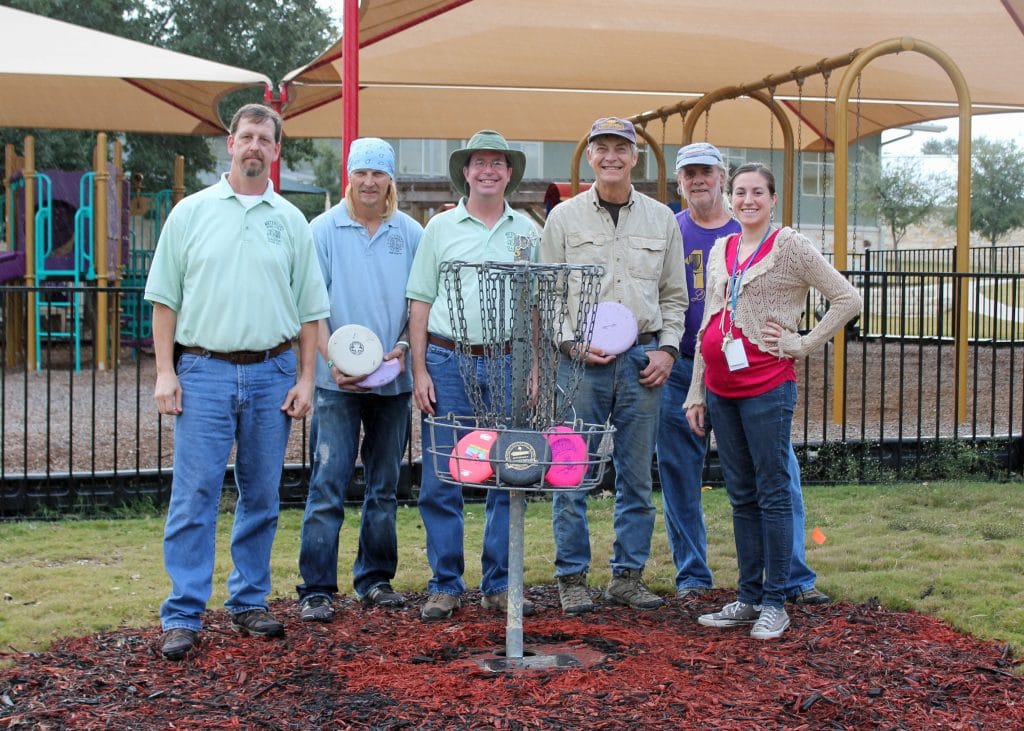 funds (in USD) awarded to schools and youth programs
youth introduced to disc golf
Our Team Across the World
Des Reading, Founding Member
Des Reading is a founding member of Team EDGE and a principal contributor to the EDGE curriculum. Des is from Woodward, Iowa where she earned 17 athletic letters, was an all-state pick in athletics, and a member of the National Honor Society. She attended the University of Northern Iowa on a D1 softball scholarship and earned a Bachelor of Arts in Public Relations and Coaching. Des started playing disc golf in college and has played competitive disc golf on the Professional Disc Golf Association (PDGA) Tour since 1999. She became a professional disc golfer in 2001 and has since won four World Championships, five United States Championships, and is a four-time PDGA Player of The Year. Des is a PDGA award recipient for outstanding service in disc golf education, the PDGA Sportsman of the Year, and in 2017, was inducted into The Disc Golf Hall of Fame. Des heads the PDGA Youth and Education department continuing her legacy of inspiring future world champions. Des made a career traveling the World playing and educating about the lifetime benefits of disc golf. In her spare time, she enjoys three-disc challenges, music, kayaking, the moon, searching for the Yeti, and a good backyard disc throwdown.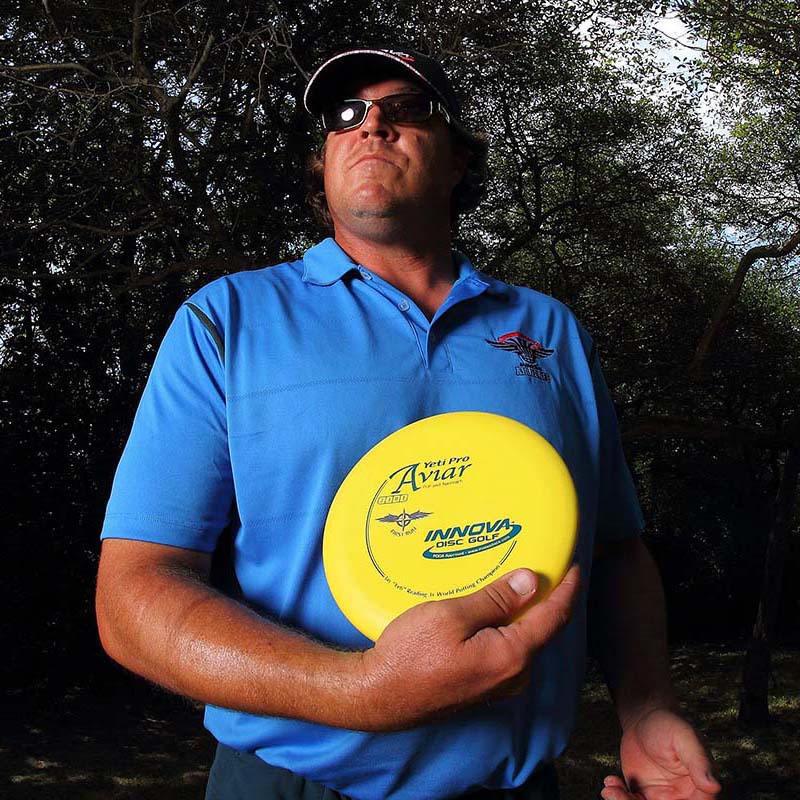 Jay Reading, Founding Member
Jay Reading is a founding member and principal curriculum contributor for the EDGE program. Jay is from Bettendorf, IA where he was an All-American lineman on the back-to-back state champion Bulldog team. He holds a B.A. in K-12 Physical Education from the University of Northern Iowa where he was a scholarship football standout. Post-graduation, he taught in the Iowa and Texas school systems before disc golf captured his complete attention, and he and his wife, Desiree, moved to Texas. It was on the PDGA Tour that Jay has amassed over 100 Professional wins, four doubles world championships, and earned accolades as one of the sports best putters having won national and five world putting titles. Reading is in the Disc Golf Hall of Fame and has also been the recipient of the Bob West Sportsman of the Year award as well as received PDGA recognition for disc golf contributions in education. Jay has served on the PDGA competition and tour committees while also coordinating touring pro clinics and the tournament charity program. Reading has introduced or taught thousands of teachers and recreationists how to play disc golf over his career. Jay Reading is also an avid outdoorsman, backpacker, and canoeist. Jay can be found "out there" most free moments.
Dave Dunipace, Throwing Fundamentals Contributor
Dave Dunipace has a background in science and sports and, to a lesser degree, music. He was a pre-med student as an undergrad before switching to psychology and earning a Ph.D. In addition to the medical sciences, he has a background in the physical and social sciences. Sports at the college level included football, basketball, baseball, softball, swimming, water polo, lacrosse, track and field, and volleyball. He has been involved in disc sports since 1977. His honors include: 1980 World Champion in disc golf (pre-PDGA), 1981 World Distance champion, 1982 PDGA 2nd place to World Champion Harold Duvall (his protege), 1983 Wham-O disc golf champion, 1985 World PDGA Doubles Champion with partner Harold Duvall, and member of the Disc Golf Hall of Fame. In 1983, Dave started INNOVA Champion Discs with Harold and Tim Selinkski. He has two sons, Taber and Koby. Dave currently holds about a half dozen patents related to disc golf.
Harold Duvall, Foreward and Course Design Collaborator
Harold Duvall was first introduced to flying discs in 1978, through the Frisbee physical education class at San Marino High School in Southern California. In 1982, and again in 1985, he won the Disc Golf World Championships. In 1983, he co-founded INNOVA Champion Discs with his brother Charlie and two friends, Dave Dunipace and Tim Selinske. INNOVA produces targets, discs, and other products for disc golf courses. In 1985, Harold graduated from the University of Southern California with a B.S. in Accounting. He is a licensed Certified Public Accountant in South Carolina. For the last twenty-five years, Harold has participated in a multitude of activities that share the basic truth that disc play is fun for the whole family. From designing and building dozens of disc golf courses across the U.S., to sharing the gospel with a Frisbee, to currently organizing the U.S. Disc Golf Championship, Harold is one of the most active and respected promoters of disc sports. Harold is also a member of the PDGA Rules Committee and the Disc Golf Hall of Fame.
Jon Lyksett, Editor and Contributor
Jon Lyksett is an Education Specialist who has had a 35-year career in education and disability services. He did his undergraduate studies at Westminster College and graduate work at the University of Utah and California State University, Northridge. Having taught both at the secondary school and university levels, Jon served as a highly respected consultant in the area of assistive technology and curriculum development and adaptation. Lyksett brings to the EDGE project many years of experience in sport and recreation and a love for the game of disc golf. He is a member of the Course Designers group and has developed and designed 21 courses for communities in five states. As a founding member of Team EDGE, Lyksett has had the continuity of working with all the collaborators and their talents and knowledge to bring the program to fruition. Jon's wife, Marlene, is his disc golf partner and shares in the operation of Take Flight, their disc and kite company. Shortly after retiring from his education consulting practice, at the age of 65, Jon was diagnosed with a progressive, incurable neuromuscular disease called Myasthenia Gravis. With a particularly extreme case of MG, which rapidly took away about 75% of the strength and stamina of his large skeletal muscles, and also affecting his breathing, speech, and vision, Jon decided it was time to retire from EDGE. Since then, he's been working with neurologists and other neuromuscular specialists at the University of Utah, to control the symptoms and regain as much quality of life as possible. Jon Lyksett's contribution to the founding of the EDGE organization will impact the game of disc golf for generations.